Discover more from Fat Cat Fun(d)
Fat Cat Fun(d) is Steven and Kevin's excellent learning and investing adventure into all things NFT, from art to domains to virtual land. Follow for a fun time!
📓 April '21 report, 🌟 Artist Interview
Recapping the fund's 2nd month + a candid conversation with Janet, the AAA video game & NFT artist
Sup cool cats! Fat Cat Fun(d) is two fwends (stevenmeets and kevinhabits) documenting our NFT investing and collecting journey. DM us for any deep dive requests!
April was a busy month! Micro cap project tokens, generative art, and of course, amazing art from up and coming NFT artists.
🆕 Investments:
Vidya
Picked up a micro bag of this micro cap project that describes themselves as a "Defi gaming token and escrow solution for games, wagering, and esports betting." We liked that the team has experience in the space and is NOT anon. Not financial advice!
Metakey
We nabbed a Metakey Genesis edition NFT, which is an NFT that unlocks virtual games & experiences, permissioned courses/websites/discord, airdrops, merch and more.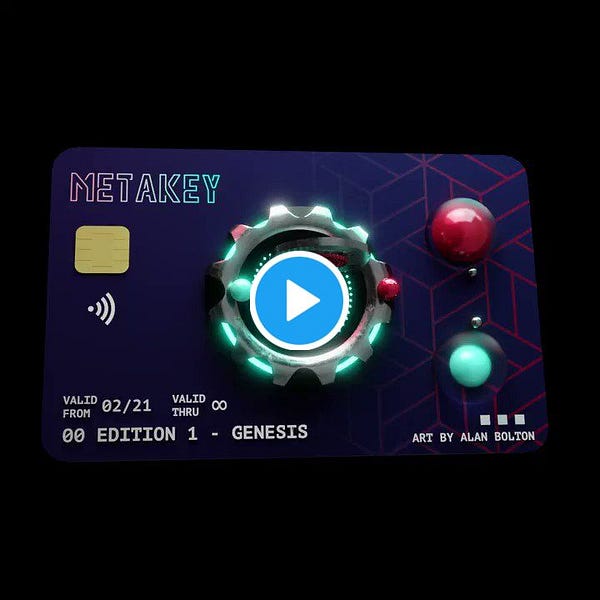 We're big believers in NFTs having utility as "access tokens" for DAOs and the like. This is a natural progression as more and more influencers seek to offer unique experiences for their super fans.
Generative Art by ge1doot, pxlq & Xenoliss
Aurora IV and Hieroglyphs are the latest works from Art Blocks veterans, Gerard Ferrandez (ge1doot) and pxlq.
Galaxiss by Art Blocks newcomer Xenoliss offers a unique interactive mode to experience the work from the first person view of the plane!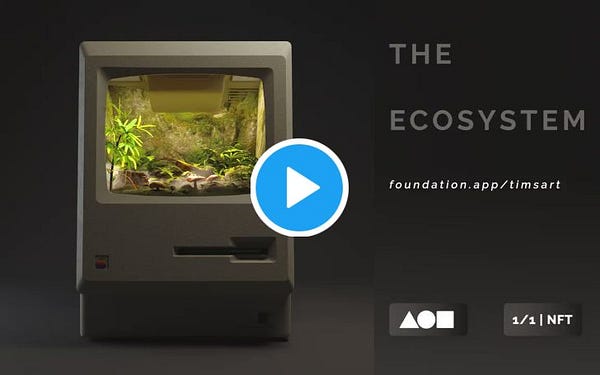 Jaw-dropper 😲. Nuff said.
The Astronaut
and
Crossing Schiaparelli
by Elia Pellegrini
Elia Pellegrini's futuristic re-imagination of Italian classics Mona Lisa and Napoleon Crossing the Alps. Check out the full interview with Elia here.
XIII DEATH CARD
by Janet Ung
A piece with multiple images and hidden messages revealed through different color filters. In case you couldn't tell yet, we're big on interactive NFTs 😸. See below for the interview with Janet.
Dekken: The Dragon Market
by MigratingLines
This piece is 1 of 30 NFTs drawn together by the story of Dino as he explores an ancient hidden world. MigratingLines is pioneering the use of NFTs as an interactive narrative that feels like a video game meets Choose Your Own Adventure.
Maneki Neko #001
by Nazar Mykhalko
A good luck cat…how tf could we say no?! Nazar's impeccable 3D modeling looks like real porcelain.
Butterfly Dreams
by jml2art
Our 3rd piece from Juan Ma Orozco, and he continues to impress with his detail - I discover something new every time I look at the piece.
---
🌟 Artist Interview: Janet Ung
Janet (Twitter, Foundation) is a AAA video game concept artist by day, and NFT star by night. Her recent work has been pushing the boundaries of interactive NFT art.
FAT CAT FUN(D): Please tell us about yourself.
JANET: Hello! My name is Janet Ung and I'm from sunny California...but made my way to the Seattle Video Game space (Destiny, Halo5), then to Sweden (Division 2: Warlords of NY) and now I'm in colorful Brighton, UK! Working for the company that made MAFIA III, check them out! In my day job I do art for video games, but now I've found my nights dedicated to NFTs :)
FAT CAT FUN(D): What was your path to becoming an artist?
JANET: Originally I didn't know what I wanted to do, but knew I wanted to do something within the art field. I found out about concept art and it went from there! I was so lucky to get a foot in the door into the video game space, and I haven't looked back since then. 
FAT CAT FUN(D): What inspires your art?
JANET: Thinking outside-of-the-box. Any new ideas, any new forms of art fascinate me!
FAT CAT FUN(D): What's the story behind the XIII DEATH CARD /// FIRST NFT Red Reveal?
JANET: Themes of innovation. It's definitely a new way of engaging with a moving digital art piece.
FAT CAT FUN(D): Which NFT projects most excite you?
JANET: The NFT projects that excite me the most are the collaborations that are happening between artists from different fields, say a concept artist and a musician. It's amazing that lockdown and technology can bring artists that wouldn't have previously ever met together. The collaborations are fun, new, exciting and fresh. 
FAT CAT FUN(D): What's a fun fact about yourself?
JANET: I owned 27 rabbits at one point 🐰
---
⏭ What's Next:
Coming up, we'll explore the Handshake protocol in our next issue.
DM us if you've got any requests, feedback, questions, or artist recommendations.
---
If you enjoyed this content, please subscribe to stay updated and give us a follow on Twitter.